JetSet Group Inc understands that each customer has different aircraft travel requirements. That's why we've created two convenient and flexible flight card options for you to choose from. Both programs offer ease of transaction, expedited service and complimentary standard catering. Card members enjoy the benefits of our one-on-one concierge service for booking everything from specialty catering to ground transportation and hotels.

JetSet 25 Hour Cards
The JetSet 25 Hour Card is ideal for the established flier who has a specific preference in aircraft and frequently travels by private jet. Pay a set hourly rate that's all inclusive. No fuel surcharges, landing fees, repositioning charges or taxi time, and hours are only deducted for point-to-point flight time.
Each card is associated with one of the following popular business jets:
Benefits of the JetSet 25 Hour Card
No Blackout Dates
No Expiration
Lock in Pricing Now - even if fuel or charter costs rise, your price will not change.
Option to Upgrade or Downgrade Aircraft within category and pro-rated ratio to calculate hours.
Extend available JetSet Card flight privileges to anyone in your family or company
Only One Single Card for any Charter Jet Flight
JetSet Universal Access Card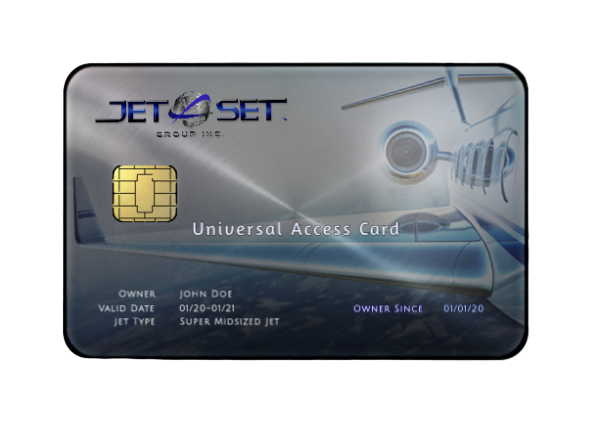 The JetSet Universal Access Card is ideal for those who only fly 5 or 6 times a year or who generally travel commercial but would like to try using a private charter jet. This is also an excellent program for those who are required to transfer funds from out of the US when paying for a charter, or who want the convenience of making last minute travel plans. The Universal card provides a variety of first-class services and privileges that make your travel as comfortable and relaxing as possible.
When you purchase a Universal Access Card you save both time and money. The transfer of funds to secure a plane in foreign countries can take as long as 24 to 96 hours. Not only is this a costly expense in time, but the delay can make it difficult to secure the best priced jet for your trip. Charter prices can vary as much as 15% to 20%, that's why it's important to have your funds available when you need them.
The Universal Card works like debit card. You put a minimum of $25,000 into your account, and these funds are available immediately when you need them.
Benefits of the Universal Access Card
Complete Flexibility – You are not locked into any one aircraft or category of aircraft.
Less Paperwork – One signature and you are in the air.
Complimentary Upgrades - With a minimum account of $100,000.
One of the Lowest Entry Amounts in the Industry.
No Expiration Date.